**Not a BrocanteHome member? You can buy the LifeBook section by Section over in the BrocanteHome store.**
---
Today, I want you to think about the way you eat and to start to experiment with discovering a way of eating that helps you to feel better than you have ever done.
This is only about "diet" in so much as it is a description of what you will eat for your own wellbeing as opposed to being focused on weight loss, though that, of course, can be part of the bigger picture as you sit down to make your WellBeing "Rules".
Why Rules?
While I do understand that the very idea of applying "rules" to something as scrumptious as food, might just be triggering for some, I am using the word "rule" to help you define exactly what it is that you already know you should be doing to help yourself, to remind you that if you want to feel well, living within these guidelines will help you and indeed the very act of creating them for yourself and writing them down, will help to imprint them on your mind so that eventually they become non-negotiable.
The Plan
The idea is to create a set of "Rules" and then to stick to them for at least three months: any less and you will not wholly be able to judge the way you feel. Thereafter you review your existing rules and then
Your Wellbeing Mission Statement
In the first section on the Wellbeing Rules Printable, I want you to try to capture, in just a sentence or two exactly what it is you want to achieve with your "Wellbeing-Rules". How do you want to feel?
Your Wellbeing Why
Then I want you to describe WHY you want to feel the way you have described in your mission statement. How would life change? How would feeling better affect both you and those you love?
A Summary of My Wellbeing Diet
In this section I want you to try to encapsulate in a short series of bullet points, your "rules" for eating. Which food groups will you be favoring? When should you be eating? Is there a particular plan you will be following? What are you committing to NOT eating? What habits are you trying to break?
Routines and Rituals To Support My Wellbeing Diet
These are the things you are committing to doing daily in order to make the "Rules" a part of your lifestyle you don't have to think about. So the Smoothie you drink after your Yoga session. The early bedtime so you are never too tired to prepare breakfast before the day starts. Your shopping routines. The meal planning rituals you commit to. Etc.
Supplements To Support My Wellbeing Diet
Use this section to note down all the supplements you are going to commit to using DAILY. The multi-vitamin you take daily. The folic acid the doctor recommended. The wheatgrass you add to juice or the CBD oil you use to help you sleep...
Books and Websites To Guide Me
And finally, note down the books and websites you are going to rely on to provide all the information you need about the plan you have created on this Printable. While there is, of course, endless information available about living well, it helps to choose one program or advice set at a time and stick to it, instead of being confused by too much information.
Ready? Get making your own RULES!
---
Download The Wellbeing Rule Sheet Below...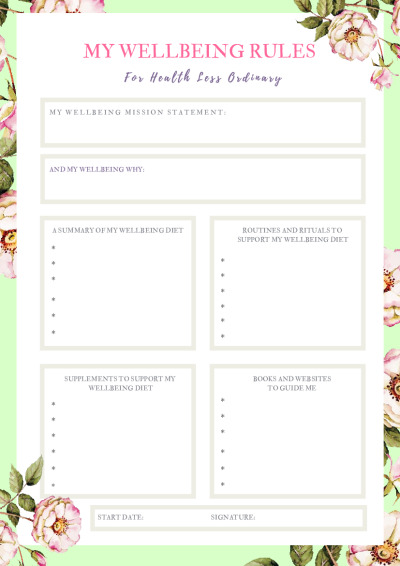 ---